Visit the site that launched the American Revolution! Built in 1723, Boston's oldest church is best known for the midnight ride of Paul Revere and "One if by land, two if by sea."
Visiting Old North Church & Historic Site
193 Salem St.
Boston, MA 02113
Access Information
Wheelchair Accessible
Restrooms
300 Years of History. 2 Lanterns. 1 Revolution! ​
Explore Old North Church campus, including the famous Old North Church, five gardens, Captain Jackson's Historic Chocolate Shop, Patriots' Corner, and the Old North Gift Shop. Old North Church Images - Photo Credit: Peter Vanderwalker
"Listen my children and you shall hear of the midnight ride of Paul Revere…"
Henry Wadsworth Longfellow
Old North Church Photos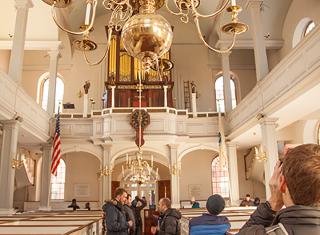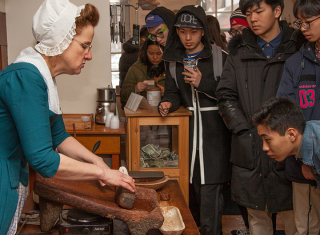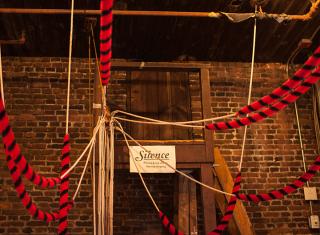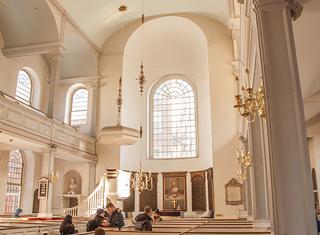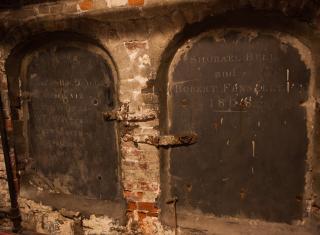 Old North Church
Captain Jackson's Historic Chocolate Shop
Bell Ringing Chamber
Old North Church
Crypt
Old North Guided Tours
Explore Old North Church further with specialty tours. Behind the Scenes Tour allows visitors to follow in the footsteps of Paul Revere to the bell ringing chamber and see 37 tombs in the crypt. Bones & Burial Tour invites visitors to discover life and death in colonial Boston.
More Information
Activities & Programs
Historic Chocolate Program
Taste the sweeter side of the revolution with daily 18th-century colonial chocolate making demonstrations.
More information
Public Programs
Exciting year-round programs and events open to the public. Ticket prices and registration requirements vary.
More information
Choose to visit Previous or next Sites on the Freedom Trail